Even as a young boy, L. W. "Buddy" Ledwell knew the importance of taking care of people and customers
Buddy grew up working on a farm in Waxahachie, Texas, plowing with steel-wheeled tractors, and in the family ice cream plant, where he waited on customers and took on a delivery route when he was just eleven years old.
When he graduated from high school, he moved to Texarkana to take a job with Safety Commissioner Warren Smith at the Red River Army Depot. Buddy began working in carpentry but quickly progressed to engineering.
After joining the army, Buddy went overseas with the Army Engineers. He attained the rank of Corporal just two weeks after he entered because he could break down an M1 rifle and put it back together in the dark. As an engineer, he spent most of his time building hospitals and roads, as well as unloading ships.
When Buddy returned from serving in World War II in 1946, he and his father, Lloy Ward Ledwell, started a lumber company called Ledwell & Son. One day Buddy needed a certain kind of truck trailer to haul lumber, so he rolled up his sleeves and welded the frame he needed to get the job done. A neighboring farmer saw the trailer and asked, "Where'd you get that? I need one!" So Buddy built it.
Pretty soon, Ledwell & Son had a burgeoning side business building pickup racks and livestock trailers, and it soon became the focus of the operation. When a farmer or a feed lot owner identified a problem with their equipment, Buddy and his father found a way to manufacture a solution.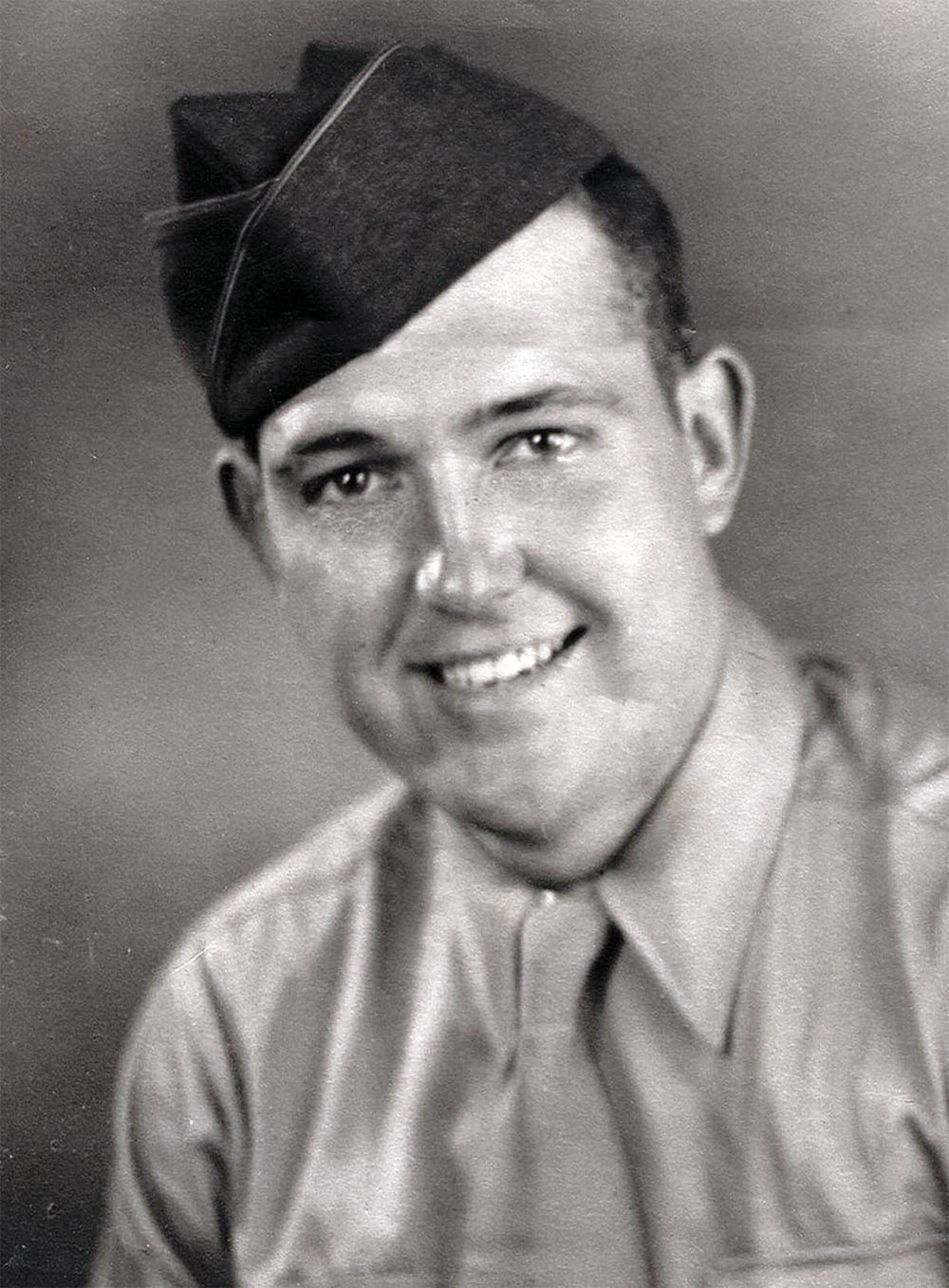 Corporal Buddy Ledwell, U.S. Army Corps of Engineers
On February 12, 1950, Buddy married Mary Elizabeth Hardy—also known as Betty—a quick-witted Texarkana native who was one of the first women in the state to compete in cutting horse competitions. According to family and longtime Ledwell employees, Buddy considered Betty the "President of the World."
In fact, he often told friends that the only person he took orders from besides General Patton was Betty. Betty stood by his side for the rest of her life. Betty was passionate about horses, and while Buddy grew his business at Ledwell, she managed the family's farm. The two had a son, Steve, and he and his wife, Lisa, have three children—Lesley, Ben, and Morgan.
In 1955, Buddy incorporated Ledwell & Son and built his first truck shop at the corner of Robison Road and Waco Street in Texarkana, Texas. We'd say the rest is history, but in reality, it took a lot of long hours, hard work, dedication, and determination for Buddy and his family to build Ledwell into what it is today—a growing manufacturing company blessed with many dedicated employees on an 82-acre site. Buddy had a keen sense of his customers' needs, sometimes even before they did, and he customized products to respond to their business needs.
Since the company began, adapting to the customer's needs has been a guiding force at Ledwell.
Buddy Ledwell was living proof that if you work hard and stay humble, you can truly build a legacy. Whatever the problem was, he saw a need and he fixed it.
He lived by the mantra that there are no problems, only opportunities. Buddy Ledwell never met 'can't,' and as a result, neither did his employees. They soon learned that when Buddy or a customer requested a seemingly impossible task, they should say 'Yes, we can do that,' and then figure out how. Rather than intimidating his workers, Buddy's can-do spirit challenged them to accomplish more than they thought was possible.
Anyone who visited Buddy's office may have seen one of his favorite quotes hanging on the wall: "No man ever drowned in his own sweat," by Ann Landers.
If you walked into a Ledwell shop right now and asked any employee what the company means to them, chances are they'd say "Family."
Those who knew him well said Buddy took communicating face-to-face with a handshake to an art form. Buddy started a tradition of walking through the shops at Ledwell each day to talk to his employees and see what they were working on, and that's a tradition the family continues to this day.
Most of the time, he'd greet his workers with, "Morning, Son," no matter what time of day it was. Buddy often said, "It's always morning at Ledwell."
Anyone who encountered Buddy had a good chance of hearing one of his Buddy-isms. "'Preciate 'cha," he might say, or, "Son, we work best after five o'clock." He was known for telling customers, "Son, you don't have to pay us until you gin your cotton." If you made a mistake, you might here, "Oh, shaw, son." And if you did a great job on something, Buddy might tell you, "You're so good, I'll give you Easter off this year if it falls on a Sunday."
Buddy Ledwell passed away on January 29, 2013, at 88 years old, preceded in death by his beloved wife Betty. He drove himself to work the day he died. Today we remember Buddy Ledwell as not just a great man, but also as the driving force behind building a lasting company that solves complex problems with an extraordinary work ethic.
Over the decades, Ledwell grew from adapting customers' trucks and trailers to manufacturing custom bodies and trailers, along with providing parts and service. Businesses know they can rely on Ledwell to find innovative, efficient, and reliable solutions to problems no other manufacturer can solve. This reputation for quality and service was no accident.
The company culture Buddy built has fueled the creativity, dedication, and talent of several generations of workers, each one working every day to keep his legacy of hard work alive.