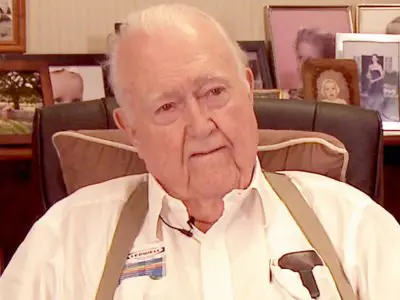 After returning from the war in 1946, L.W. (Buddy) Ledwell and his father, Lloy Ward Ledwell, established Ledwell & Son Lumber in Texarkana, Texas. Building pickup racks and livestock trailers was a sideline for the company at first, but soon became the focus of the operation.
Buddy incorporated Ledwell & Son and built his first truck shop at the corner of Robinson Road and Waco Street in Texarkana. Today, Ledwell includes fourth-generation family members and has expanded operations onto a substantial manufacturing site with nearly 500 talented employees.
For over 75 years, Ledwell has continued the legacy of excellence started by Lloy and Buddy Ledwell, with an expansion of services and an eye for quality and dedicated customer service. Ledwell offers custom manufactured truck bodies, trailers, and parts and service. Businesses, large and lean, come to Ledwell with transportation needs and are provided with the best, most innovative solution. 
Ledwell's mission is to manufacture top-quality equipment that is efficient, reliable, and customized exactly to the customer's needs.
OUR LEADERSHIP
Today, Ledwell includes fourth-generation family members and a team of dedicated employees with decades of experience. 
The result – an unmatched focus on the quality of our products and our customer relationships.
OUR MISSION
Manufacturing tough, innovative equipment that moves you forward.
QUALITY
When it comes to quality, we never compromise. From production to service, we deliver equipment that's built to last. That's what Ledwell Made means.
GRIT
We work hard. We're problem solvers. We meet customer challenges with innovative solutions. We get it done.
LEGACY
It took sweat, dedication, and a lot of hard work to build this company. This legacy guides us today.
FAMILY
Our people care. We do what's right for our employees, our customers, and our community – because that's what family does.
IN-HOUSE MANUFACTURING LEADS TO SUPERIOR QUALITY CONTROL
Quality control is at the core of everything we do, but it's not the only benefit our customers can count on. At Ledwell, we pride ourselves on understanding our customers' needs, from equipment performance to regulatory compliance. 
Our skilled craftsmen average 20 years in this industry and don't back away from a challenge.
Choose Quality Solutions. Choose Dedicated Support. Choose Ledwell.